Hello everyone!! Its nice to be back and write in my blog!! Also I've been having great support from friends that remind me to write every Friday! :) As you may know Fashion has always been one of my biggest passion! Ever since I was little I have love every part of that industry. But since I started getting into Korean Dramas and K-pop I started liking south Korea fashion and everything else! Korea is a major style inspiration for me at the moment and I wanted to show you why! :D
Its very girly! Bows are a must for Korean girls, for that extra cuteness and doll-ish look
Its very mix and match! The trend right now is to match patterns you didn't think with go together (but it does)
Its also very preppy!! Something that Korean girls love is the sailor style! It goes really well with a hint of a smart look!
Sometimes I do feel like my style is quite odd, and many people don't understand it, I just think is funny how the older I get the younger I wanna look. Its also very nerdy and geeky of me to say that Sailor Moon has one of the best outfits I have ever seen (not ashamed) :) Speaking of that I thought it might be useful to list my favorite Korean idols style inspiration:
Hyuna: I just think her style is quite cool with of a bit bad girl in it :) At first I didn't like her style, but now I'm really digging it :D
Park Sora: I just really like Stylenanda and I lovee her :)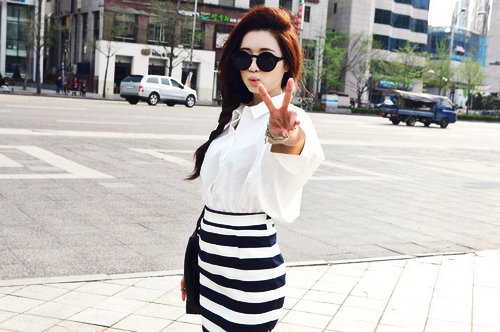 And others! :)
From my fav Korean Drama
Love from another Star!
This could be the largest blog post I have ever made :)
I hope you enjoyed it and Have a good one!!
xoxo Till next time! :)